Introducing the PrepCabin
Panelized Cabin and Tiny Home Kit
Over the past couple of years, we've been building our own cabins, consulting on cabins, and studying every cabin and tiny home building method available. There are so many options; between kits, prefabricated units, and DIY plans, it can be difficult to determine where to start.
Now we're taking all of our research and combining it into a cabin kit that is easy to build and sure to impress! Proven to be one of the quickest, most cost-effective, and efficient building methods available. Now it's easier than ever to build your own cabin from the PrepCabin cabin kit. Every cabin kit comes with the unmatched durability and efficiency of Structural Insulated Panel (SIP) construction.
All PrepCabin Kits are Precision Manufactured with
Name Brand Structural Insulated Panels
What are Structural Insulated Panels?
In our opinion, there is no other building method that is more efficient for building than Structural Insulated Panels. SIPs consist of a foam core sandwiched between sheets of Oriented Strand Board (or OSB) – a type of plywood. The panels are precision-engineered and cut to fit together perfectly. This provides a tightly sealed envelope with the best insulation values possible.
Building your cabin or tiny home with SIPs will also save you time on your project, which reduces labor costs. Also, each kit is manufactured in a controlled environment for a precise fit. There is virtually no job site waste attributed to the use of a SIP building package. You can rest easy knowing your cabin or tiny home is manufactured with SIPs.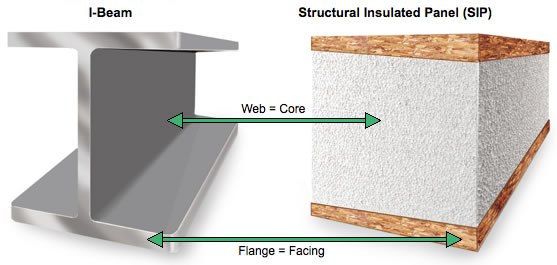 Build Strong With SIPs
The Structural Insulated Panel construction method provides amazing strength in a lightweight and efficient package.
According to SIPs.org
"The structural characteristics of SIPs are similar to that of a steel I-beam. The OSB skins act as the flange of the I-beam, while the rigid foam core provides the web. This design gives SIPs an advantage when handling in-plane compressive loads."
Building Green with SIPs
Structural Insulated Panels (or SIPs) are considered a green building product. Their insulation value is extremely high, and when assembled, they provide a shell that is significantly more airtight than stick frame construction. SIP buildings have been tested and proven to be 50% or more energy efficient than stick buildings.
SIP panel construction uses a smaller volume of materials, time, labor, and resources than other building methods. The facility, that our kit is manufactured in, partners with many green building and energy saving organizations.

Build with Long-Term Confidence
The PrepCabin cabin kit wasn't designed to be just an ordinary cabin. It's engineered and designed with the durability, safety, and requirements of residential, and commercial construction. This means the PrepCabin cabin kit is capable of passing any inspections and adhering to the strictest building codes.
The SIP panels are treated with FRAMEGUARD. A proven safe and effective treatment to eliminate mold, mildew, and termites for the life of the structure. The Foam core of the SIP panels are treated with Perform Guard® termite protection for added protection and durability.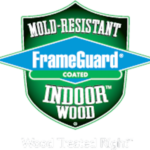 100% Customizable
With the PrepCabin cabin kit, your customization options are almost limitless. Once the shell is assembled you have a blank canvas to work with. We can design and manufacture any style or shape for you. And since the walls – interior and exterior – are clad with OSB it's super easy to apply any kind of exterior siding and interior treatments you desire. No searching for studs with SIP construction because nails and screws will hold anywhere.
Want it to look like a log cabin? Simply apply log shiplap siding. Want the weathered and rustic look? Board and batten siding is easy to apply when you're not searching for studs. Interested in extreme and long-lasting durability? Metal siding will last a lifetime with no maintenance.
Your PrepCabin kit will come pre-cut with the door and window openings that you specify during the planning of your cabin.
All Foundation Types
The PrepCabin cabin kit can be adapted to any kind of foundation. The kit can be set on any kind of piers, blocking, stilts, or even easily adapted to a slab on grade foundation. PrepCabin kits are also perfect for basement foundations.
Kits with floor panels require only a minimal number of support beams and no need for floor joists! Each kit will be engineered for the foundation you wish to use.
PrepCabin Floor panels are also manufactured from Structural Insulated Panels (SIPs) for strength and amazing insulation properties.
Need some inspiration? Here are some great cabin design ideas:
What's included in a PrepCabin Cabin Kit?
Your PrepCabin cabin kit will ship with all engineered and pre-cut SIP panels required for your design. Also included are the materials and supplies to assemble the panels:
SIP roof panels

SIP wall panels

SIP floor panels

SIP splines

Do-All-Ply sealant dispensers

Do-All-Ply sealant tubes

Plumb and Square cut lumber for SIP ends (explained in instructions)

SIP tape rolls

9" wood screws

Roll wall wrap tape

Wall wrap

Shop drawings and instructions

What's Not Included?
The PrepCabin cabin kit is the structural shell package for your complete cabin build. There are other supplies and materials that will be needed to complete your cabin. You may ask why we don't offer a complete building package? The simple answer is that it would cost significantly more for us to supply windows, doors, siding, roofing and dimensional lumber than it would for you to purchase those materials locally.
For example, interior walls or column supports will be needed to support your roof structure. This will be accounted for and engineered in our plans but these materials will need to be sourced locally. Engineered beams (Glulam) can be included in your building package to simplify your project if desired.
Hiring a Builder or Contractor vs. DIY
Here at PrepCabin – unless you have prior construction experience – we highly recommend hiring a local builder or contractor to assemble and finish your kit. Not all contractors want to work with SIP kits and may try to talk you into letting them build you a stick-built structure. If stick-built structures are inferior, why would they want to change your mind? It's simple… the contractor typically spends more time on stick-built jobs and makes more money through marking up the labor and time!
If you really want a DIY kit, we can help you with that too. A mini or micro cabin using a SIP panelized building kit could be assembled by as few as two to three people.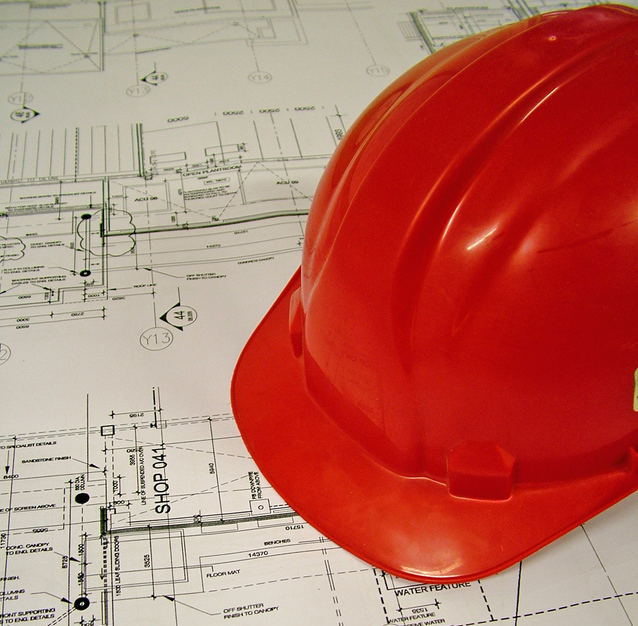 Are you ready to start your PrepCabin build? Or would you like more information?