Camping is an underrated activity. I say that because I love doing it but don't do it nearly as much as I'd like to. And I hear the same thing from my friends and associates. Perhaps it's that we're just really busy with life and it's obligations? Maybe it's the hassle of making plans, loading up the gear, setting up camp?
Besides the questionable access to restrooms and bugs, one of the biggest causes of camping avoidance is the lack of comfort while sleeping out in the woods. And this last spring I believe I found the next best thing to an actual wood frame cabin or yurt.
Introducing: The Crua Tri – 3 Person All Weather Insulated Camping Tent.
What makes the Crua Tri so special?
First, and most importantly, it has an insulated cocoon that lines the inside of the sleeping area of the tent providing unmatched comfort in tent camping. Secondly, it's a very durable tent made from seriously heavy-duty materials. It's no lightweight. They advertise the "trail weight" at 48 lbs. That's tent body, rain fly and poles ONLY. Using a luggage scale, the total weight including the storage bag came to 55 lbs. The tent, stuffed inside the rolling storage bag measures roughly 18″ x 10″ x 32″. If you're camping out of a modern compact car … you won't have much trunk left.
Description from cruaoutdoors.com
"Two's a company, but three doesn't have to be a crowd, not when you're packing the Crua Tri.
Constructed to comfortably accommodate three adults, the Tri stands out for the ample room to maneuver that it allows you. It includes a spacious vestibule that can be used to store your gear and where you can chill when the weather is on the chilly side. And when the weather is sunny, why not roll up the entire front flap for a window on your own personal slice of wilderness and to encourage fresh airflow.
Alternatively, prop open the front flap using the included tent poles or your vehicle to extend your living area and provide welcome protection from those harsh rays.
As for the bedroom zone, the Crua Tri once again excels thanks to our legendary insulation technology. Crua's patented TT insulation works to block out intrusive light, dampen annoying noises, and regulate the temperature within, keeping you cozy when the mercury falls and cool in the height of summer.
The result? You get to enjoy an incredible night's rest, and wake feeling refreshed and rearing to tackle whatever outdoor challenge you have planned.
Come wind, rain, snow, or shine the Crua Tri has you covered no matter where you and your peeps are bound."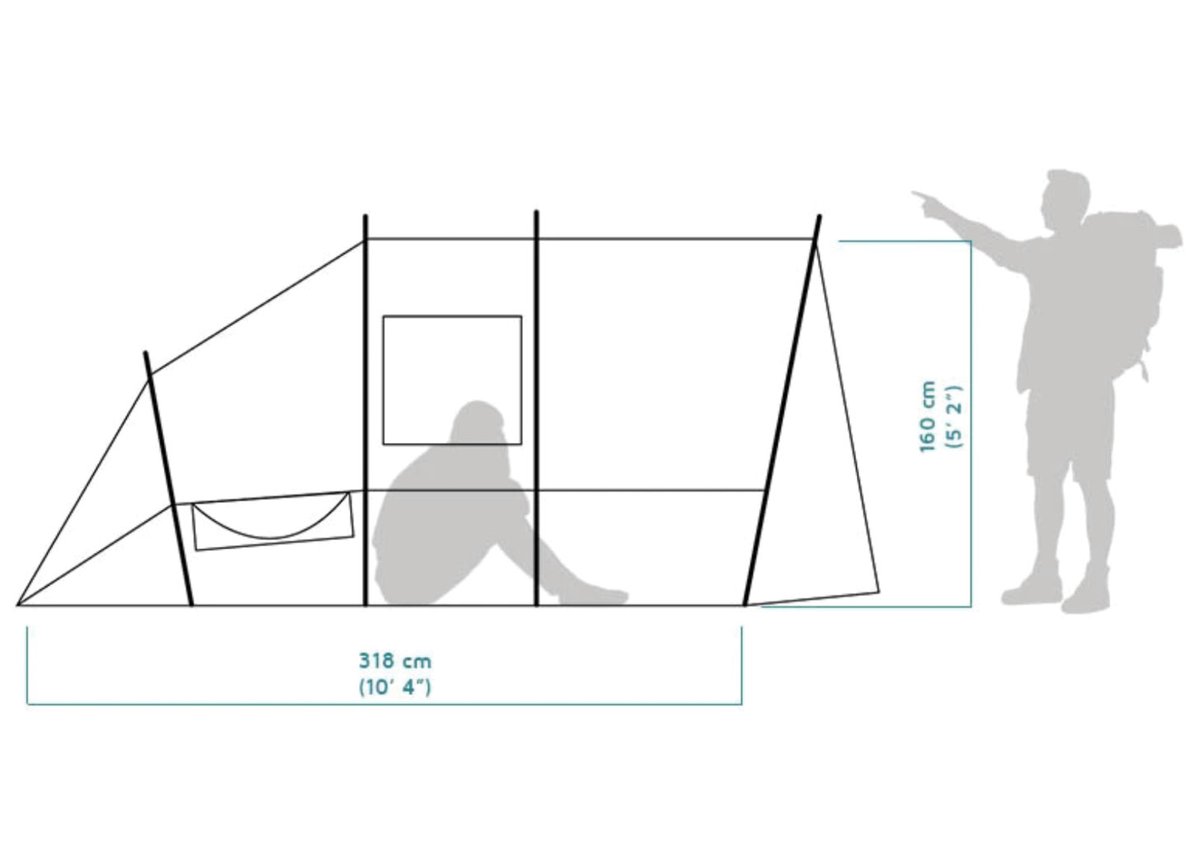 Specs and Tech Date from Cruaoutdoors.com
Dimensions
WIDTH:

 

6.5ft / 196cm

LENGTH:

 

7.8ft / 234cm

HEIGHT:

 

5.2ft / 157cm

PORCH WIDTH:

 

6.5ft / 196cm

PORCH LENGTH:

 

3ft / 91cm

TOTAL FLOOR SPACE:

 

80sq.ft / 7sq.m

TRAIL WEIGHT:

 48lbs / 22kg*

*Trail weight refers to the weight of the tent body, rain fly and poles ONLY. This is also referred to as 'minimum weight'. Packed weight is not the same as trail weight.
Materials
INSULATION:

 

TTInsualteTM Design

BREATHABILITY:

 

Dura-BreatheTM Tough

POLE SYSTEM:

 

Aerospace grade aluminium

INNER TENT MATERIAL:

 

Poly-cotton 65/35

OUTER TENT MATERIAL:

 

Laminated poly-cotton 80/20
Features
1 BEDROOM

 

– sleeps up to 3 comfortably

3′ PORCH

ZIPPERED SLOT UNDER FRONT DOOR TO ACCESS POWER

SIDE WINDOWS:

 

2(Large)

MESH SCREENS:

 

(throughout)
WARRANTY:

 

2 Years

WHEELCHAIR ACCESSIBLE:

 

Yes
HYDROSTATIC HEAD:

 

5000m
GROUNDSHEET:

 

Built-in
My Immediate Impressions of the Crua Tri
This tent is serious. It's made very well and appears to be very durable. I'd trust it in just about any weather this side of a hurricane.
Set up is a little labor intensive. I took my time and enjoyed a couple of beers during the process. It would be easier with a friend but reasonable enough to tackle do alone.
Instructions are clear and easy to follow. Not perfect but more than adequate.
There is enough room for two people. As with most tents, the stated occupancy is people crammed in without much gear. 3 grown men would likely be a little uncomfortable.
It's really dark – and quiet – inside! This part excited me the most. I'll get into this more later in the review.
Best night's sleep while camping ever!
The Crua Tri insulated tent is seriously comfortable. I can confidently say that with the Crua Tri that I had the best rest I've ever gotten while tent camping. This is largely attributed to the insulated and quilted inner tent liner. In my opinion the insulated liner provides three extra comfort factors above and beyond a regular tent.
The first comfort factor is that this tent does a great job of insulating and regulating temperature. At first, I was a little concerned about it getting stuffy in the tent. But the tent liner can be easily vented for fresh air while still staying warm and comfy. The nights got down to about 40 degrees fahrenheit for a low temperature at my spring campout. I never knew it had gotten chilly in my tent. In fact I was sleeping on top of my Cabela's Trapper sleeping bag because it stayed that warm inside. This is just with me and my body heat and no heater.
The second comfort factor is that this tent is dark inside the insulated inner tent liner. It's pretty much black-out with the windows closed and the entry flap zipped up. Even in bright daylight, only the tiniest dots of light made it through the sides of the zipper. Other campmates flashlights or lanterns won't keep you up at night after you turn in. Also, if you don't want to wake up at the butt-crack of dawn, you can just roll over in the darkness and sleep a little longer.
The Third comfort factor is that the insulated inner tent liner also provides sound insulation. Part of being in nature is enjoying nature. But sometimes the drone of crickets – and other campers – can impede a night's restful slumber. While the sleeping cocoon isn't sound proof it does a great job of muffling out annoying noises. The noise level is significantly reduced inside the insulated tent. I don't know if this would be enough for an around-the-clock music festival but it's perfect for camping with a semi-rowdy bunch of friends. 
Price
The Crua Tri is no lightweight in its heft. Neither is it a lightweight in its price. Coming in at $899 at cruaoutdoors.com.
Compare to a high-end wall tent like a Kodiak Canvas or a Cabela's outfitter tent and you are in a similar price range. The Crua Tri does tend to be a little more than these options.
Even though much better than a basic camping tent, these tents do not come with an insulated inner liner like the Crua which helps justify its extra cost.
The Crua Tri is so beefy and overbuilt that it should stand up to enough camping trips that I doubt I'll ever need to buy another tent. If you're like me – and have 3 semi-broken – big-store tents in storage that only lasted a few campouts it may be time to invest in a better tent.
Recommendation
I like this tent. While it does have some limitations like space, portability, and price point I'd have no issue recommending this tent to a serious camper in the market for a higher-end camping experience.
I was the first at camp for this campout. After the next person arrived they wanted to see the tent. So I showed them the features and it got a lot of compliments. After that every time a new person showed up at camp they got a tour of the tent from the previous viewer. This tent showed itself off. It got rave reviews from people who didn't even sleep in it.
The Crua Tri in my opinion is the next best camping shelter to a tear-drop camper trailer. If you want to tent camp, this is the tent for you. After using this tent I told my wife this is a tent for people who don't particularly like tent camping.
A 4 Seasons Tent
The Crua Tri is billed as a 4 season tent. In northern climates I find that claim to be completely believable. In warmer climates with hot summers, the insulated inner tent will likely need to be removed for and all the ventilation opened up. Crua does sell a silver reflective/green reversible rainfly that should help it stay cool in sunnier locations. I have not ordered one yet to test out so I can't vouch for its real-world application. The science behind a reflective rainfly should tell us that it would work well.
What are your thoughts on the Crua Tri insulated tent? Let us know in the comments below.